FYSH Clothing Co. is a streetwear clothing brand. The company was established on November 2006.

FYSH is an acronym for "Four Young Sneaker Heads," base on the fact that it is headed by four members.

Their collections are quite unique and fresh. One of their featured tees is the "Shark Imposter tee"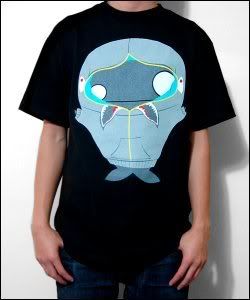 "Fysh Mammal is showing the correct way to wear a Shark Hoody, not everyone can pull of this look. He's ready to tackle the sea of shark bitches with his new found swagger.
This design has been with us since the inception of FYSH. It brought a lot of hope and positive outlook on things to come. The irony of the whale in a shark suit is funny to anyone not just the streetwear community. The quote on the back is a direct reference to Kanye's "Ralph Lauren was Borin' till I wore 'em" phrase. The bear logo is "FYSHified" "
They have also recently dropped their fitted caps - "Whale Fitted". With a more reserved and conservative design they are simple and sure to be popular.
"Introducing the first FYSH fitted made by FYSH! It's our first entry into the cut and sew business. Real simple design featuring a tilted whale on the front, OG varsity letters on the back, and monogram print on the bottom of the bill. Includes FYSH lifesaver sizing sticker on bill and official FYSH sizing label on the inside.
Venturing into other types of apparel. FYSH wanted to start off with a simple design that can appeal to everyone without busting their pockets. We originally made samples in summer of 2007 and got great feedback from the community. After a few minor tweaks the finished hat is here."

Im sure we'll be hearing a lot about FYSH in the future.