Gold Coin Clothing is a California based company producing exclusive apparel for exclusive lifestyles. The line was created when a group of long time DJs, graff writers, sneaker heads, and toy fiends had an idea: to make clothing that would represent the streets while still expressing the fun aspects of life. Gold Coin is inspired by all of these interests, along with a little humor. Life is taken too seriously by many. Gold Coin is here to help people stray from this problem.

Gold Coin produces high quality, functional clothing, all the while staying on the next level of design. Each item is numbered; released first and foremost as a piece of art, secondly as a garment. All pieces are very exclusive, manufactured in extremely low quantities. Once the items sell out they will never again be reproduced. Gold Coin is to be sought after and collected.

With Gold Coin collection is key. On the back of every Gold Coin tag is a small gold coin. Collect enough of these coins and Gold Coin offers a special bonus release item that can only be obtained in this way. This special release changes every season with a new super exclusive item only for collectors. Gold Coin urges you to "follow the coins".


Here are som pics of their gear: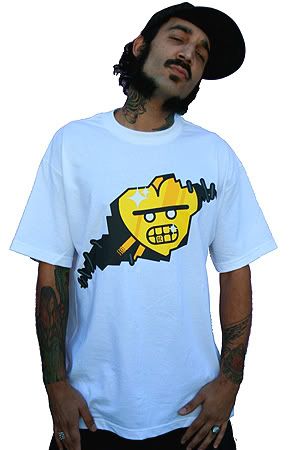 Heart of Gold Tee


Rocky Rock BLK Tee


Skully Outliner Crewneck Sweatshirt
Night Stalker Zip-Up