Billionaire Boys Club have already come out with their "waffle" hoodies and t-shirts which are shown on their site. So would it be right to not release a "waffle" Ice Cream shoe? For the past two years Ice Cream has been releasing their signature board flips which proved to be a unique, different and overall a nice pair of kicks.

Now Ice Cream are looking at the sweeter side of life and will release a low top, very unique "waffle" shoe in October 2007 retailing for $US200. The shoe features an all over waffle design with splats of butter for added flavour.

Personally these kicks aren't my cup of tea or should I say "waffles for the morning" but it will be very interesting to see Pharrell or Terry Kennedy in a pair of these.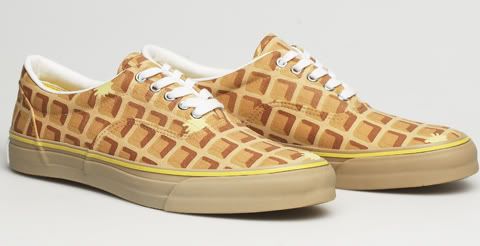 Ice Cream "Waffle" kicks
Do you like it? Hate it? or Indifferent? comment and let people know what you think